2030 Sustainable Food Strategy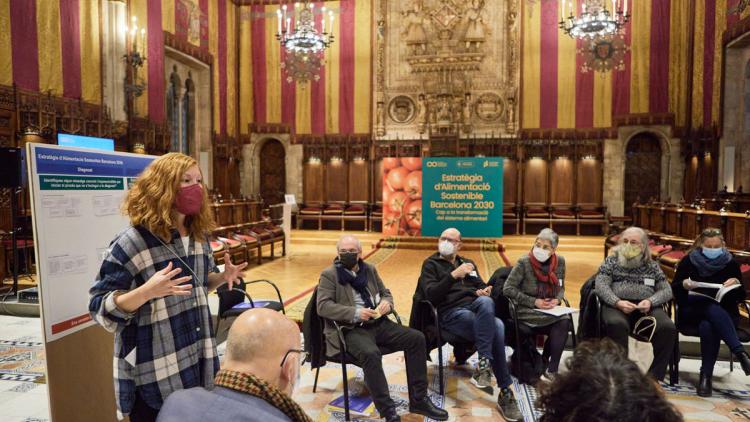 Just like other cities around the world, in order to tackle the social, climate and ecological emergencies we are all facing, Barcelona City Council, in collaboration with the Barcelona Metropolitan Strategic Plan (PEMB), has begun to work on drawing up a 2030 Sustainable Food Strategy which will become the shared roadmap to be followed as regards food policy in the city over the next 8 years.
The Barcelona 2030 Sustainable Food Strategy aims to be a city strategy, one created by, and for the benefit of, all the stakeholders within the food system, and which facilitates the roll out of shared policies, projects and actions by all. It also aims to be a strategy with transformative power, one that challenges and involves the different stakeholders who want to contribute to the transformation of the food system in order to make it healthier, fairer and more sustainable.
Per donar-li front a les emergències socials, climàtiques i ecològiques a les quals ens enfrontem, i tal i com ja han fet moltes altres ciutats del món, l'Ajuntament de Barcelona junt amb el Pla Estratègic Metropolità de Barcelona (PEMB) han impulsat un procés per elaborar una Estratègia d'Alimentació Sostenible 2030 i que sigui el full de ruta compartit a seguir en matèria de polítiques alimentàries a la ciutat per als propers 8 anys. 
L'Estratègia d'Alimentació Sostenible Barcelona 2030 vol ser una estratègia de ciutat, és a dir, una estratègia elaborada per i per a tots els agents del sistema alimentari que faciliti la implementació de polítiques, projectes i actuacions compartides per part de tots aquests agents. Alhora, vol ser ser una estratègia amb vocació transformadora, i que interpel·li i impliqui als diversos agents que volen contribuir a la transformació del sistema alimentari per fer-lo més sa, just i sostenible.
A sustainable urban food strategy is at the same time both the process that allows the city to visualise the transformation of its food system, and the result of that process, as well as outlining how these necessary changes will be made a reality. It calls for collective action, building synergies, involving other capacities for transformation, including a diversity of voices and knowledge, overcoming challenges and becoming more ambitious in tackling the ecological and social emergencies that we face.

A Sustainable Food Strategy places sustainable food firmly on the urban agenda, building on existing knowledge and efforts, and creates new synergies by building links between different stakeholders. It also creates a joint working framework that will provide stability over time, reaching beyond changes in institutions or specific organisations and so making it possible to plan actions in both the short and the longer term.

To establish a shared vision and a set of major city objectives in line with SDGs and international commitments.
To develop the vision and objectives with input from a broad range of stakeholders from the quintuple food helix, from different social spheres and different points within the food chain that are committed to working towards the transformation of the food system.
To build alliances, strengthen relationships, and facilitate networking between stakeholders.
To identify lines of work, possible shared projects and measures, stakeholders whose involvement is key, risks and concerns, and living examples.
To create a space for governance, coordination and joint work to roll out the strategy.

This process has been developed taking into account the need to give a voice to different stakeholders in the domain of sustainable food. Consequently, it involves representatives from what is known as the quintuple food helix (public administrations, the private sector, academia and research, citizens and citizen organisations, and the media), as well as from a range of different spheres (health and well-being, the environment, social justice, education and culture, and the economy) and stages within the food chain (from field to fork).

There will be a range of working spaces, including three meetings of the City Plenary for Sustainable Food, eight sectoral and themed meetings, and interviews with key stakeholders, to mention a few examples. Furthermore, a participatory process open to the general public will be held in the spring to compare the strategic objectives resulting from the process.

An analysis of the question "How does Barcelona feed itself?" has been carried out to provide a snapshot of the characteristics of Barcelona's food system, based on available empirical data. This analysis will serve as a starting point for the definition of a shared vision, and will enable us to identify the main challenges involved in achieving this vision.

You can find the full document here, and the executive summary here.

As is explained in the report "Sustainable Food: a Manual for Cities", the concept of sustainable food refers to feeding the whole of the population in a way that benefits the people, the city, and our planet. This is why we need to produce, transform, sell, buy and consume food in a way that generates economic prosperity, promotes social justice, conserves and regenerates resources and ecosystems, and safeguards the capacity of future generations to eat sustainably.

A sustainable food system creates prosperity, promotes social justice, preserves and regenerates natural resources and ecosystems, and safeguards the capacity of future generations to feed themselves in a sustainable way.

Sustainable food is:

Good for people./strong> It ensures everybody has the necessary resources for producing, consuming and enjoying safe, sustainable, healthy and tasty food that enables us to enjoy life to the full. That includes people who need support and more resources.
Good for cities. It promotes prosperous, diversified local economies, which ensure the well-being of workers and distribute the benefits more equitably. It emphasises traditional diets and food knowledge. It welcomes the diversity of cultures that live together in our particular region, generating positive relations between urban and rural environments, between the global North and South.
Good for the planet.It produces, transforms, sells, purchases and disposes of food, preserving and regenerating natural resources and ecosystems. It helps to stem the climate crisis, ensures animal welfare and fosters biodiversity.