The ALIMENTA project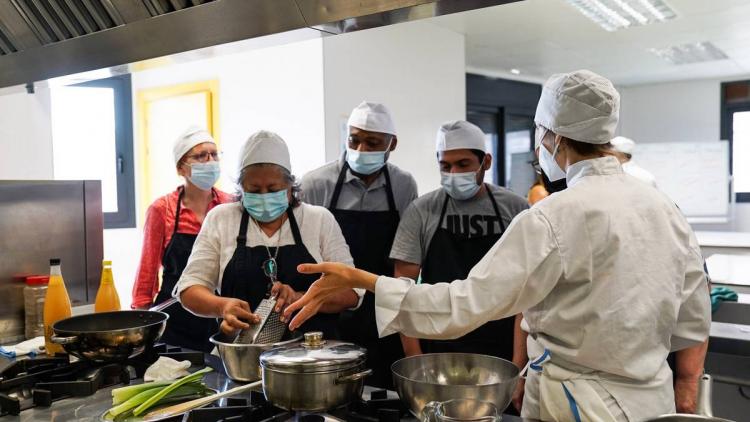 The ALIMENTA project involves the creation of a new social food model in the city of Barcelona between 2021 and 2023, in order to guarantee the right to access food in an inclusive and dignified way, taking advantage of the potential of the current system, and resolving the shortcomings identified within it.
During the year 2020, the pandemic put food security in the city of Barcelona at risk; requests for financial assistance in order to be able to buy food rose substantially by more than 364%, and there was a rise of 16.1% in the number of meals served in soup kitchens. For this reason, a robust response is needed to bring together food aid initiatives and resources in the city of Barcelona. The main objectives of this project are the following:
Promote socially inclusive initiatives aimed at those who use community food services, empowering them and boosting their autonomy.
To improve the quality of food aid provided, using the following criteria: health, sustainability, locally sourced products and respect for the environment.
To promote integration of those receiving food aid into the community and the workforce.
To promote the use of the social food circuit in the city.
To promote networking between all the sectors involved in food in the city.
Barcelona City Council is working in collaboration with organisations and social stakeholders, as well as with the business network, on the implementation of this programme. The project is divided into three key areas:
Food with meaning: improving traceability and user entry and exit procedures in food care circuits.
Food spaces: the creation of new physical spaces for providing food services, including canteens or community soup kitchens, as part of community or workforce inclusion programmes in collaboration with the Red Cross. This not only guarantees access to food, but also fosters self-management skills, empowerment and integration into the labour market.
Healthy and sustainable food:ensuring that food aid products are healthy and sustainably produced, i.e. organic, local and seasonal. To this end, cooperation with other stakeholders is essential, such as CIAP for the supply of produce, Mercabarna for the reuse of food, and collaboration with AlterBanc, a non-profit organisation run by diverse neighbourhood movements that aims to serve as an alternative food bank with a vision based on agroecology and social economy.