More week
ENTITIES PROMOTING AND WORKING FOR SUSTAINABLE FOOD.
Are you aware of the entities and other organisations that promote and work to make sustainable, fair and healthy food more accessible in Barcelona? Do you know who promotes it in your neighbourhood and what initiatives are organised? Do you need help putting it into practice? Would you like to get involved?
This activity provides access to the entities and organisations in Barcelona offering the absolute best of themselves in the form of activities, visits, talks and other experiences, through their expertise and experience of committing to sustainable food throughout the year.
Don't miss it! You'll find many answers, motivation and questions you hadn't even considered!
Note: each entity is responsible for the organisation of its activities. Barcelona City Council assumes no responsibility for changes in scheduling.
Imatge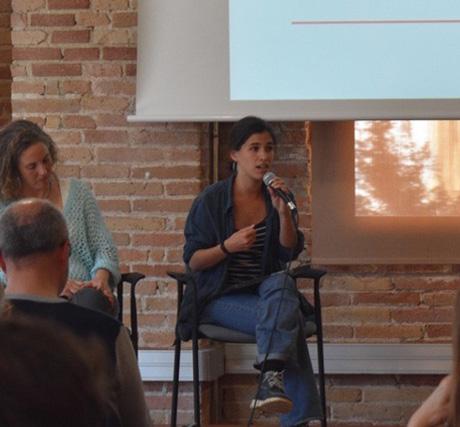 October 14th from 15.00 to 20.10 H

University of Barcelona, historic building, Aula Magna, first floor

As part of the goals of the Barcelona 2021 World Capital of Sustainable Food, and to help promote a transition towards food sustainability, combining people's health with the planet's health, the conference aims to raise awareness about the need for this transition, as well as discussing scientific data and the projects that are being carried out in this field.
The conference is on the future of food: how to combine health and sustainability. It aims to combine experience with academic knowledge, civil society and public institutions, in a reflective debate on the challenges facing us in our move towards 5S food (Salubrious, Sustainable, Safe, Social and Satisfactory), with speeches, roundtables and debates concerning diets and health, the impact of climate change on food systems, agroecology and ecological food, equity, biodiversity and food safety and their socio-economic impact.  It will also discuss the subjects of food equity, the right to food and perspectives on food vulnerability, as well as the environmental impact of food and diets, food waste and the added value of local produce as being good for the planet and for strengthening local economies.
The conference will be taking place on 13 October, from 4 to 8 pm, and on 14 October, from 3 to 8:10 pm.

 

The start off the week will be a chorus, musical, and participative. Having their say will be the real heroes of sustainable food, those involved in the food cycle: the fishermen, drivers, chefs, farmers, ranchers, market vendors. The speech will be intertwined with the large mechanical orchestra of Cabo San Roque, distributed in the form of a sound mural in front of the City Hall, along with the active participation of the public, in a collective musical creation composed especially for the occasion. A show that highlights all the participants behind the food supply network and gives them a voice.

Scenography and musical composition: Cabo San Roque
Stage direction and coordination: Edi Pou
Idea and concept: Virginia Angulo / Martín Garber

 

 

October 15th from 10.00 to 12.00 H

Mercabarna - 5a planta, recepció centre directiu

We offer you the chance to discover all the secrets of this market, located in a sustainable, energy-efficient building and exclusively dedicated to the sale of bio produce.

Mercabarna houses the first wholesale market for fresh ecological food in Spain, a firm commitment to furthering the commercialisation of this type of food and facilitating its distribution. The initiative is in response to one of the stated goals of the "Barcelona Eats Sustainably" strategy and the 2021 World Capital of Sustainable Food.

 

 

October 15th from 10.00 to 24.00 H

Recipe store online with traditional recipes to help stop food waste.
Trying to get local cooking traditions back with aim of putting a stop to throwing away food.

October 15-23 from 10.00 to 18.30 H

Jardi Botànic de Barcelona

"More than bees. Pollinators and flowers, life at stake" is an exhibition aimed at introducing city residents to the essential role played by pollinators, to ensure the survival of most of the plants on the planet and raise awareness.
Thanks to its visual and educational approach, with various levels of reading accessible to all visitors, you will discover how pollination occurs, the role played by these insects in the process and the role they play in the Earth's ecological equilibrium.

(Free exhibition with the price of a ticket to the Jardí Botànic).

October 15th, 16th, 17th, 20th, 21st, 22nd, 23th and 24th from 12.30 to 14.00 H

This activity is an adapted version of the classic visit 'The Winery and the Vineyard' offered at Can Calopa de Dalt. In this case, the activity offers a special tasting of wines from periurban projects managed by L'Olivera: Vinyes de Barcelona (from the Finca de Can Calopa de Dalt, in Collserola) and Arraona Blanc i Negre (from the estate at Can Gambús, in the Sabadell Agricultural Park).

 

Are you curious to learn, see and experience more about this innovative, new and exciting way of producing food? Groots experts will provide a unique view of the entire production process of their products to all those interested.

October 15th from 16.00 to 17.30 H

An activity aimed at raising public awareness of the resources used in food production, in order to show the importance of avoiding food waste due to the losses it generates.

 

October 15th from 17.00 to 19.00 H

Presentation of the #CookOnceEatTwice campaign, with a view to sharing recipes and tips for getting the most out of your ingredients as a way of contributing to sustainable eating at home. The event will include a showcooking demonstration by the CETT-UB, where some of the recipes included in the campaign will be prepared.
La Fundació Espigoladors will be taking take part, with a question and answer game on making the most of food.

 

October 15th from 18.00 to 19.00 H

In this 60-minute talk we explain the pros and cons of using packaging for the retail sale of fruit and veg, and you'll see that, in some cases,not only does it not represent an improvement in terms of food safety, but quite the reverse.

 

In this theoretical-practical online course you will learn about the tools you need for a healthier, more balanced diet, learning to choose seasonal ingredients and use them in simple, quick and tasty recipes. We will explain how you can organise and design your weekly menu so that it is more varied and sustainable. We will help you to consume in a more conscious way, avoiding food waste and unnecessary packaging. You will prepare simple, tasty vegetarian recipes, in order to include more fresh, seasonal vegetables in your diet. A dietician will always be on hand to answer any queries, and you can share your experience with other participants to ensure that the session is more fun and worthwhile.
You will receive information and a recipe every day, by email. Throughout the course, there will be a WhatsApp group for comments and queries.
Activity with admission price (€15).

 

October 16th from 9.00 to 18.00 H / October 17th from 9.00 to 14.00 H

Institute of Catalan Studies, Sala Prat de la Riba

A forum for agriculture, livestock farming, science and the academic world, as well as consumers, where people can meet, debate and establish a framework for cooperation which favours a transition towards resilient, healthy, fair and diversified food systems.
A place where people can work on how to help reduce greenhouse gas emissions and sequestrate carbon in food systems in order to counter and adapt to climate change.

 

 

 

October 16-24 - Every day at 9.00 H

Bio Week for Organic Food is an event featuring a whole host of activities around Catalonia, with the common goal of promoting and introducing organic produce and food to the public. The activities are organised by producers, processors and transformers, associations, shops, restaurants and schools working on subjects relating to organic agri-food production. See all the activities on the www.setmanabio.cat. 

October 16th and 17th - 10.00 H and 13.00 H

Pl. Ramon Berenguer el Gran, 2, entresol 1a escala dreta

Cookery workshops for everyone who wants their food decisions not to affect the well-being of the planet and who wants to eat as sustainably as possible.

October 16th and 23th from 10.00 to 12.00 H

What do you need to set up a vegetable garden in your home? We will talk about substrates, fertilizer, the cycle of vegetables and growing tables or other ways to organize it. We will also incorporate bio-carbon as a soil regenerator and CO2 trap. Having a vegetable garden at home is not only therapeutic, it also helps with a sustainable diet!

October 16th from 10.30 to 12.00 H

La Fàbrica del Sol Fab Lab

The Fàbrica del Sol Fab Lab shows us how it has created a small, sustainable vertical vegetable garden, made out of plastic bottles, recycled wood from fruit boxes and cuttings from advertising banners, which can be hung up inside a flat or on a balcony.

Discover digital manufacturing technologies that are able to turn waste into resources.

 

October 16th, 17th, 23th and 24th from 10.30 to 19.00 H

La Rambla Kiosk (near Mercat de la Boqueria)

Are you aware of the entities and other organisations that promote and work to make sustainable, fair and healthy food more accessible in Barcelona? Do you know who promotes this in your neighbourhood and what initiatives they organise? Do you need help putting it into practice? Would you like to get involved?

Come along to the kiosks on La Rambla and find out for yourself! Check the grid to see the times for each organisation. We will be near Mercat de la Boqueria.

 

October 16th from 11.00 to 13.00 H

A talk on sustainable food at an early age and the emotions that are derived from what we eat.

During the talk we reflect on the benefits of conscious, sustainable nutrition during childhood; the relationship between what we eat and the emotions we feel, acquiring healthy habits at a young age and the importance of understanding how our body works

 

Mercat de la Sagrada Família

Times are changing, and so is our food. Just as our work, our leisure and the way we relate to each other have changed, we can also change our eating habits and make them healthier.

One essential nutrient for a healthy diet is protein, which we usually associate with food of animal origins. But what options do vegetables offer us in terms of protein content? Come and find out, and enjoy a spectacular culinary tasting!

October 16th from 11.30 to 12.30 H

Vallvidrera Civic Centre - Vázquez Montalbán

A family show that aims to familiarise children with the cooking of seasonal vegetables and foster a healthy, sustainable diet.

Can you imagine seeing how some seeds turn into fresh vegetables, in front of your eyes? In this fantastic family show, you will discover the magic of cooking while having a good laugh. You will see a love story in the form of a Shakespearian tragicomedy, where peaceful coexistence triumphs inside the saucepan! From now on, eating cauliflower, carrots or broccoli will be much more fun. You'll be licking your fingers!

An introduction to Aquaponics as an urban agricultural technique.
Designed so that everyone can understand the basic principles involved. Through a dynamic talk and various practical activities, you can see, touch and even savour the complete aquaponic cultivation cycle, from seeds to harvesting.

Two hours of structured activities with an interactive talk and a workshop of practical activities (visit to an aquaponic system, water analysis in the system, planting and harvesting, problem management and resolution, etc.).

 

October 16th from 17.00 to 18.00 H

A talk in which will we explore the features of the current agri-food system, where it is heading and the role each of us has to play. We will look at issues such as the relationship between the food industry and biodiversity, governance, new technologies, local consumption and food sovereignty.

October 16th from 18.00 to 19.00 H

Vida Meva - Local Ecological Groceries

The chef Sergi de Meià brings us permacooking, as a move towards more sustainable cooking. Not to be missed!

 

 

October 17th from 10.00 to 12.00 H

Esplanade next to Estació del Nord

Talk, Culinary experience

At this communal breakfast there will be three work stations baking home-made bread, which is more natural and better for a balanced, sustainable diet and, in terms of production and consumption, it generates less impact on the environment and is produced locally.
It reduces the negative impact on the environment. It helps to reduce the consumption of highly processed bread and pastries, which are not good for your health.

 

 

Courtyard at the Nou Barris District Headquarters

Talk, Culinary experience

Since 2004, after learning about the experience of the Lille Soup Festival (France), 9 Barris Acull and the Knowledge-Exchange Network have been organising the International Soups of the World Festival with the aim of improving life and relationships amongst neighbours.
Why have a soup festival? Most importantly, it is a reason to get together, and also because soup is a symbol of something mixed together, yet also very different; something very unique, yet quite universal. All soups share some basic elements (the fire, water, pot, etc.), and from here, the diversity is almost infinite: vegetables, meat, spices...and all the other ingredients that each village and each family has on hand. Therefore, soups are essentially all the same, but at the same time, all unique; all different but all alike, just like people.
The festival is a good excuse to get together: the neighbours have the opportunity to gather in the streets and share culinary traditions from all over. There is nothing better than the warmth of a soup to break the ice and leave aside prejudice and stereotypes, and give us the opportunity to get to know one another and start new things together, so that the current simmer of our neighbourhood translates into a better way of living for everyone.

Online: October 18-22 - 9.00 H / On-site: October 23-24 - 9:00 H

Fabra i Coats, Videoconference

The Solidarity Economy of Catalonia Fair (FESC) is an annual event for meeting up and showcasing the social and solidarity economy. Over a hundred exhibitors, talks, workshops, children's activities, concerts, a sustainable fashion parade and plenty more. Sign up here

October 18th from 9.30 to 13.30 H

Midway through the European project FoodSHIFT 2030, organised in Barcelona, the initiative is offering a conference open to everybody and with the participation of the members of the European consortium, its acceleration labs and a series of international guests, presenting the progress in its research and citizen involvement.

 

October 18th from 10.00 to 12.00 H

We are offering a talk in our field of "Training in Catering" for young people in vocational training, and we also prepare them for entering the job market in restaurants and catering.
We include the contents of vegetarian and vegan menus, as well as sustainable packaging!

 

October 18th from 11.00 to 12.30 H

Talk, Culinary experience

Talk and tasting aiming to promote sustainable food from locally-sourced produce and the prevention of food waste.

Visit to the new "roof terrace allotment", located at Palau Foronda, officially opened in March 2021 and run by people with disabilities. The project will be presented directly by the people with disabilities taking part in it.
The "Roof terrace allotment" project is a Barcelona City Council initiative that promotes urban agriculture and local provision cultivation, making the most of unused spaces in the city's urban centre (roof terraces and balconies in municipal facilities). Vegetables are cultivated there by associations of people with disabilities and offered to organisations working with people at risk of exclusion.
 

October 18th from 15.30 to 19.00 H

Pecha Kucha presentation and debate on improving food tech innovations that work for collective action and citizens.

October 18th from 16.00 to 17.30 H

Is it possible to scale agro-ecological projects without being digitalised? This session, organised by the MatchImpulsa programme, aims to reflect on the promotion of new digital marketing channels since Covid-19 and the impact that digitalisation has on the scalability of sustainable business models and the transformation of the food model.

October 18th from 17.00 to 19.30 H

Sustainable cuisine workshop, open to all. Learn more about healthy eating and cook up a few simple but deliciously tasty dishes!

El Clot - Josep Benet Library

Gaby Susanna is the director of the Aprofitem els Aliments platform.
Half of the food currently wasted would be enough to feed the entire global population that goes hungry. Research, economic and fiscal measures, and legal changes are needed to make this possible.
This year, 2021, Barcelona is the World Capital of Sustainable Food. The city wants to make the most of the event, using it as a tool to kick start a transition towards sustainable food. The purpose of this series is to disseminate some of the central aspects of sustainable food with key experts.  
Series coordinated by Lluís Reales.

October 18th from 19.00 to 20.00 H

Food is highly visible on the street, and is the focus of all sorts of activities and events held in public space. We'll be talking about food traditions over the years in Barcelona, and taking a look at how these have been transformed in recent years.

Cookery workshop for less well-known fish and demonstration of how to use the less popular parts of these products.

Talk on approaching aquaponics as an urban agricultural technique.

Conceived so everyone can understand the principles of this technique, through a dynamic talk where the audience can take part with their ideas and questions. What is aquaponics? How does it work? Why is it a sustainable activity? What do we have to know to put it into practice?

Includes a visit to an aquaponics system to find out how it works.

 

The research aims to identify the links between purchasing processes and public procurement, and the negative impacts related to human rights and social and environmental aspects in the restaurant sector.

Centre Cívic de la Sagrada Família

Presentation of the documentary Después de las ocho [After Eight], a film arising from the racist uprising in El Ejido in 2000.

The documentary shows the various sides of a conflict that has spread in recent decades, through the transformation of everything south of the Pyrenees into a place for agricultural exports, extractivism, exploitation, xenophobia and the emergence of right-wing extremism.

 

October 19th from 19.30 to 21.00 H

Create, feel, touch and taste seasonal fruits and  vegetables grown locally.

A family activity to learn easy recipes using recovered fruits and vegetables, which did not make it to the market (due to their appearance, size, or overproduction).

 

Gastrorecup is a dinner that takes place once a year at the Semproniana restaurant. The entire meal is prepared with products that would be headed to the landfill. The recovered food comes from farms, the central market, and from shops in the neighbourhood.

Ada Parellada designs the menu the same day as the dinner, as there is no way to predict what would go to waste.
During the dinner, guests are not able to choose what they want to eat, since we are not able to pick the ingredients that are provided either.

Gastrorecup is an event aimed at consumers, to raise awareness about the global food waste problem.

October 20th from 10.00 to 12.00 H

ome to Can Soler and learn how to extract and conserve the seeds of local, recuperated vegetable varieties.
Discover how a seed bank works, as well as the work of promoting community mental health carried out by the Tres Turons Foundation.

October 20th from 10.30 to 12.00 H

Centre Cívic Baró de Viver

Comprehensive workshop offering various tools and resources to cook simply and become familiar with nutrition, where children and families can engage with healthy food in an enjoyable way.
Activity linked to the programme: El Primer Pas, early years space for infants and children up to the age of 3 at the Centre Cívic Baró de Viver.

October 20th from 17.30 to 18.30 H

A talk with a nutritionist that will lay bare some of the myths about food.

Food plays an essential role in our health and in the environment. We get information from all sorts of places, often contradictory, about what is best for us. In this session, Sara Casals, a nutritionist from Mengem amb Sentit [Eating Sensibly], will be helping us to unpick some of the myths about food and discover how much truth there is in these popular legends. We will also be speaking about the role of local, seasonal and ecological produce in the area of nutrition.

If you are interested in discussing something specific, please send us your proposal before the session, to mengemambsentit@gmail.com

October 20th from 17.30 to 19.30 H

We'll be cooking real food in this activity, putting the emphasis on seasonal and zero kilometre products and putting forward ideas for preventing food wastage: conservation, keeping food in the fridge and so on.
Activity with admission price.

October 20th from 18.00 to 20.00 H

Rusc Guinardó - Bons Focs, Obrador Bons Focs

Market for small producers who promote local, seasonal sustainable production. These producers deliver directly to consumers in the city through 'ruscs' (hives) or neighbourhood consumer communities. There are 13 'ruscs' open in Barcelona, thanks to the project El Rusc Que Diu Sí!

October 20th from 18.00 to 20.00 H

Is it possible to organise our agro-food systems in a way which affords a decent life to everybody involved in them? How can we make it easier for people struggling to combine production, reproduction and care work to access alternative or organic food systems?

 

October 20th from 18.00 to 20.00 H

Aula Ambiental Bosc Turull

We'll take a stroll in the Bosc Turull forest to take a look at the carob trees and find out more about them. And we'll be collecting a handful of the fruit itself to make carob "chocolate", a healthy, seasonal alternative to cacao that's locally sourced.
The activity will begin at the Bosc Turull Environmental Classroom, and end at the Can Carol Neighbourhood Centre.

By means of a simulated cooking competition, the participants in this activity discover the environmental impact of everything we eat. Food products can generate many impacts, depending on where they come from, how they are made and how they are packaged. Within the framework of Barcelona, World Capital of Sustainable Food, the workshop will be placing emphasis on the waste produced in kitchens and how to food shop consciously. Participants will be encouraged to create the most sustainable recipe possible. Together, they will propose and seek responsible consumption alternatives in people's diets.

The general public and families (children aged 10 and over).

October 20th from 19.00 to 21.00 H

Find out about Barcelona's distinctive shops that first opened their doors many years ago (shops selling jars of cooked vegetables, specialising in salt cod, or vermouth, etc.), the conflict between different retail models and the changes brought about by the opening of shops selling products from other culinary cultures.

 

October 21th from 9.00 to 14.00 H

A large part of the food produced in Catalonia is consumed in Barcelona and the metropolitan area. This is one of the reasons why Barcelona has a clear responsibility for Catalan agri-food. Solutions need to be found for sustainable food by examining the real environment where food comes from.

This webinar will present the various actions being carried out in schools by the Barcelona Public Health Agency in order to foster healthy, safe and sustainable eating habits, in both the school environment and at home. It will also present and discuss the new sustainable food recommendations for lunch menus in the city's schools, included in the review programme.

More info here. 

Centre Cívic Baró de Viver

Share the experience of progressive introduction in our employment programmes –Vives Emploa– of the concept of nutritional improvement/healthy eating as an element for employment.

October 21th from 16.00 to 18.30 H

A roundtable discussion on municipal best practice experiences for promoting global justice and healthy diets through a commitment to fair trade. Discussion between participants concerning municipal initiatives that promote fair trade and healthy diets.

 

Mercat d'Autors Barcelona

Demonstration of innovative cookery to utilise seasonal fruit and veg. We'll show you how to make healthy, creative and fun meals!

October 21th from 17.00 to 19.00 H

Having a small flat is no longer a restriction when it comes to making compost in the city. Community composters are enabling a large number of people to recycle their organic waste.

We offer you a chance to discover this practice at a gathering of the various composter communities in the Eixample district, to identify needs and share experiences around community composters as agents of social change. A unique opportunity for discovering community composting and its benefits first hand.

 

Discover the evolution of the Horteras de la Ribera de Barcelona Consumer Group, seen from the experience of the producer and the consumer, with Dulu and Enric (Hort3Sols farmers) and Julien Telle (Les Horteres consumer) .

October 21th from 18.00 to 19.15 H

Discover a catering service with sustainable job placements, use of non-polluting and reusable materials and with sustainable food products. We use seasonal and local chemical-free products.

October 21th from 18.30 to 20.30 H

In this conference, we will explain how the new genetically-modified organisms work (GMO) and any resulting complications that may arise for farmers in terms of feeding the human race and how they are treated in the future, depending on how they are classified.

October 21th from 18.30 to 20.30 H

We will be commenting on the book La política sexual de la carne [The sexual politics of meat], which explores the connection between consuming meat and patriarchal values.
We will take a historical approach to the alliances between feminism and anti-speciesism, while cooking vegan recipes.
It is recommended to have read the book first.

 

October 22nd from 10.00 to 12.00 H

The Tres Turons Foundation invites you to take part in the recovery of fruit tree cultivation at Can Soler.
Come and plant a tree, and take part in a transformative project!

 

 

October 22-23 from 11.00 to 22.00 H and October 24 from 11.00 to 21.00 H

Plaça de les Glòries Catalanes, next to the Disseny HUB Barcelona

Market, Culinary experience

The aim of the festival is to promote and enhance the role of Barcelona's characteristically Mediterranean food markets as drivers of urban development, promotion of local products and social cohesion. The goal is to make the values that the markets encompass clear to the public: markets as suppliers of fresh, quality, sustainable and local produce, linked to healthy eating and the Mediterranean diet, staffed by experts in these products, and urban spaces which are both a meeting point and which transmit culinary culture.

The gastronomic world will be represented through spaces offering samples of tapas created both by up-and-coming and experienced chefs and the bars and restaurants of the markets involved, with typical products from the country. A direct example of the use of market products in cooking to generate relationships between restaurant and market professionals.

With the aim of bringing the public closer to the know-how behind the use of market products and gastronomy, the fair will also have activity spaces open to those attending with a programme covering the whole schedule of the festival, with cultural events and a broad offering of workshops for all ages.
The public will have three days to discover and enjoy the market products and local tapas created by chefs from some of the best restaurants from across Catalonia and the markets involved.

 

October 22nd from 11.30 to 13.30 H

In this webinar, we will be discussing the basis and principles for promoting a healthy, sustainable diet through community action in terms of health, using local and international examples. We will be focusing on those alternative practices that foster people's empowerment and autonomy, from a social, economic and ecological perspective. We will be speaking about cooking workshops, urban allotments and collective kitchens, among other initiatives.

More info here. 

 

 

October 22nd from 17.00 to 18.30 H

A debate session aimed at the general public as agents of change, to help ensure there is no bread left on the shelf at the end of the day. Five bakeries will be taking part, to explain how bread-batch and daily demand estimates can be made, as well as the daily difficulties this process presents.

Perhaps we, as consumers, can do something to help? Come and find out! We are all part of the problem, and therefore, we are all part of the solution!

 

 

October 22nd from 17.00 to 18.30 H

Casal de Gent Gran Bascònia

Talk from the nutritionist and dietician Conxita Lladó on what constitutes a healthy diet for elderly people and their needs.

 

Centre Cívic Baró de Viver

What is healthy food? What benefits does this type of food have? What are the most beneficial foods for us? We discover the answers to these questions and many others through the main characters of the story told to us by Cia. Routart.

 

October 22nd from 18.30 to 20.00 H

Discovering NEMPERFEINA [Getting down to work]. Jointly creating the jobs needed to change our production and consumer model.

October 22nd from 19.30 to 21.00 H

A family activity to learn easy recipes
using recovered fruits and vegetables, which did not make it to the market (due to their appearance, size, or overproduction).

 

October 23th from 10.00 to 19.00 H

Visit to a heritage building that results from the aggregation of estates and architectural elements from different periods of history: a section of the Roman aqueduct, medieval stone arches, part of a Renaissance gallery and a romantic garden, that show the wealth of the evolution of the building from its construction to the present day. 

The building has recently been refurbished and work has been carried out on the roof terrace, where a space has been planned for an urban garden, at the southern end of the building, which will be managed by the organisation. This allotment includes different kinds of plants depending on the seasons and the crops rotate from year to year. To decide the type of crop, the conditions of the climate, hours of sunshine and exposure to winds have been carefully studied. The project includes a non-passable area on the roof, a pebble area located at the north-east end of the garden, which becomes the Calm Corner, and a small Japanese rock and stone garden visually integrated into the whole installation.
 

October 23th from 10.00 to 19.00 H

The Museu de les Ciències Naturals de Barcelona is supplementing its discourse with the construction of a 7,100 m² wild green roof. An experimental space for discovering the species best suited to sustainable roofs and roof terraces in the city, organised into three meadows and three wild freshwater lagoons adapted to the Mediterranean climate. 
Creating the Living Roof Terrace involved the building's original roof being conditioned and made impermeable – conceived originally as a large extension of water – and is part of the city's strategy for increasing urban greenery because Barcelona is a dense, compact city with a shortage of green spaces. Increasing the number of green roofs in Barcelona will help to increase the quality of life of its residents and make the city more habitable, healthy, sustainable, self-sufficient and resilient.

October 23th from 10.30 to 13.00 H

Presentation by the member organisations of Replantem, and an explanation of what each of them does with a view to promoting a healthier and more sustainable diet. 

October 23th from 11.00 to 13.00 H

Having been up and running for almost a year now, we're opening the Punt Verd de Vallcarca composting unit, and distributing the compost obtained. Discover the world of community composting!

October 23th from 11.00 to 12.30 H

Federació d'Organitzacions per a la Justícia Global

Presentation of the teaching material for secondary education "Our ecological footprint. It's not just a matter of eating "(2021), free and open source. The material focuses on responsible consumption from a global citizenship perspective, given the social and environmental relevance of the consumption model established on a global scale, specifically with regard to food products. 

 

October 23th from 11.00 to 13.00 H

Estació de Ferrocarrils de la Generalitat - Baixador de Vallvidrera

A visit to the Can Pujades community allotment, a space for socialising, food and health.

October 23th from 18.00 to 20.00 H and October 24th from 11.00 to 13.00 H

Creu d'en Muntaner, 17, Sant Joan Despí

Visit the old Masia de Sant Joan Despí, an old farmhouse renovated with a combination of wood, metal and glass that makes it one of the city's most architecturally interesting buildings.
The restaurant has an open kitchen and legless tables in a glass dining-room looking onto a splendid garden of tomatoes, lettuce, fruit trees and aromatic plants, as well as the vineyard. Some of the products making up the dishes served at the restaurant come from the estate itself.

 

October 24th. Visits at 10.00 h, 11.00 H, 12.00 H and 13.00 H

The Cirerers cooperative co-housing scheme, an eight-storey building with 32 dwellings and community spaces,will be the tallest building in Spain built with wood. Currently at the construction stage, it will be a passive building because it will have minimal energy demands as regards air-conditioning and producing hot water, and it will be ecological too as it will use materials with a minimum ecological footprint and preferably organic.
The roof will have common spaces where local residents will be able to carry out diverse initiatives, such as a collective urban allotment.

 

October 24th from 11.00 to 12.00 H

Did you know that 67% of Barcelona's roofs are flat and could be made use of?
In this visit, we want to present the opportunity to transform the roofs of Barcelona into urban gardens, their environmental and social benefits; to know about seasonal foods, how they grow and why seasonal food is important, and the opportunity to plant some produce while enjoying the experience.

 

October 24th from 11.00 to 12.30 H

Prat de la Riba 71, Santa Coloma de Gramanet

This is project for changing the use of the Noucentista Canigó pavilion, at the Torribera complex, designed by architects Masó and Pericas. The building had mainly been used for the care and residence of mentally ill people: Now a new use is proposed for it as a restoration school. The project takes account of the original spaces and finishings and aims to emphasise the structure of the building's Noucentista vaults and arches. The pavilion's spaces are sufficiently versatile and generous for the new programme to be comfortably located there in accordance with current functional requirements. The interior treatment is very neutral, seeking the clearest and cleanest possible expression of the facilities.

 

October 24th from 11.30 to 12.30 H and from 12.30 to 13.30 H

Talk, Culinary experience

Miró always had a carob pod from Mont-roig del Camp tucked in his pocket. Discover more about this local alternative to cacao, a superfood that's been unfairly discredited in recent decades. Get to know the properties of carob, plus some of its secrets and a few quirky facts, and you'll see tempting ways to make it a part of your diet, to strengthen the rural economy and at the same time avoid the progressive loss of cultivated land.