Terra i Gust 2023: everything you can enjoy
During the La Mercè festivities, from 22 to 24 September, Parc de la Ciutadella will be hosting another edition of Terra i Gust [A Taste of the Land], Barcelona's sustainable food festival. What surprises are in store for you?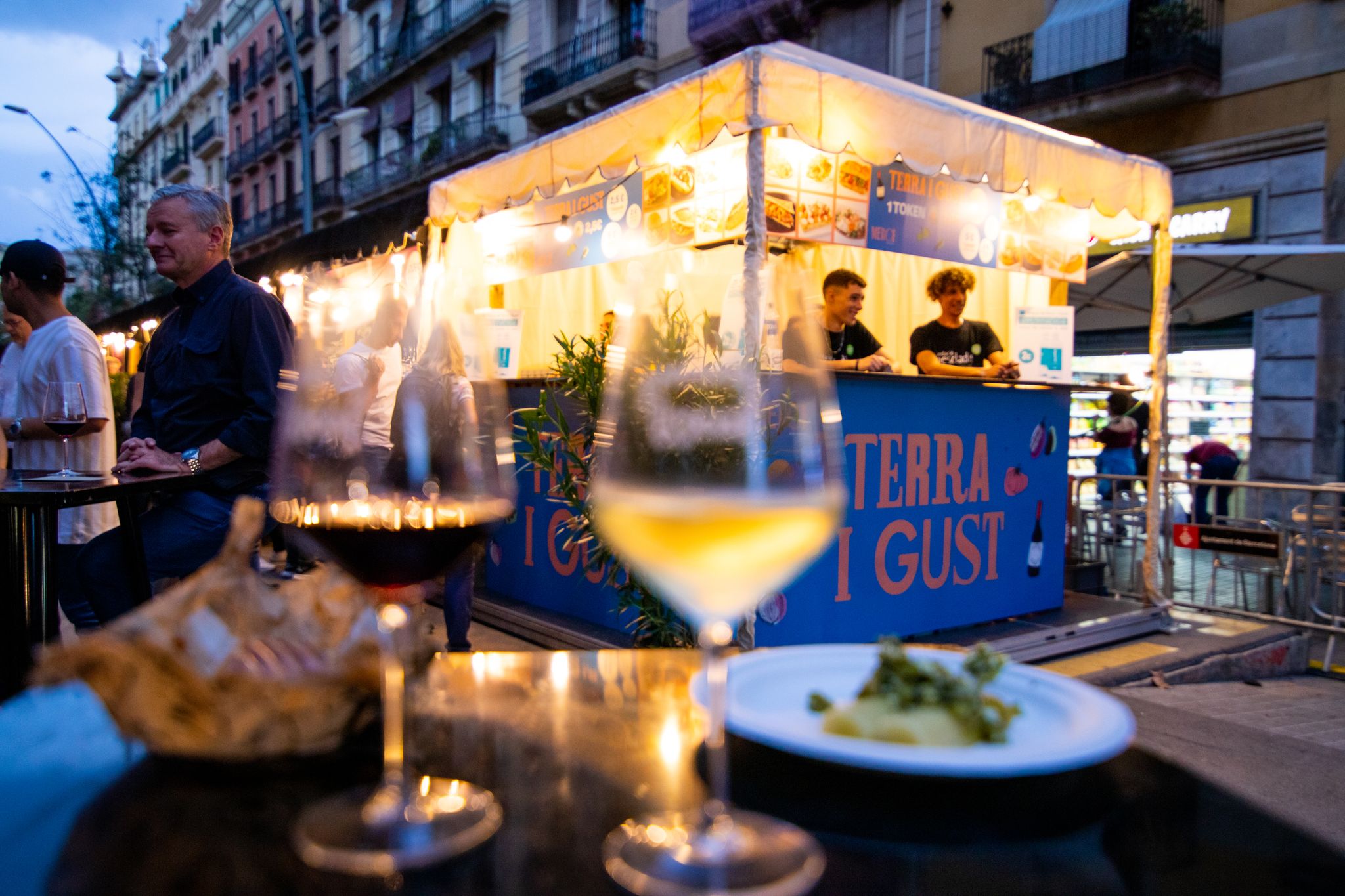 13/09/2023 - 14:42 h
- La Mercè
Ajuntament de Barcelona
Barcelona's great sustainable food festival is about to begin. This event, where you can enjoy music, food and drink in a more aware way, once again focuses on the city's sustainable hospitality, as well as forging a culinary, cultural, economic and social pathway, thanks to its growing impetus.
It is being held from 20 to 24 September in Parc de la Ciutadella, to coincide with the La Mercè festivities, and the complete programme is now available online. 
A wide variety of dishes at sustainable food stands
This year, the festival is expanding its culinary offering to include 27 different dishes at a price of €5 each. The fourteen restaurants taking part include: Bistrot Levante, Casa Xica, Contracorrent, El Filete Ruso, Espai Puntal, Green Leka, Happy Foods, La Sosenga, Les Finestres de Llúria, Llambers, Mescladís, Monocrom and Zaza – Cuina i Vi, along with the Ukrainian restaurant Rodyna, which is representing Kyiv, this year's guest city at La Mercè 2023.
There will also be craft produce on offer, from Mercat Arrels, the online farmers' market, as well as other local producers, including ice cream from Delacrem, specialty coffee and locally-sourced organic craft drinks from the Olivera Cooperativa – Can Calopa, Lov Kombucha, Barcelona Beer Festival with Birra08, Cyclic Beer Farm, L'Estupenda, Kibus, Clúster Craft Beer and La Cervesera del Poblenou.
A world of activities for all audiences
Most of the activities on this year's programme will be taking place on Saturday 23 and Sunday 24. There will be a total of thirty workshops, cooking shows, games, tastings and talks, in order to learn how to change our habits and discover the culinary world via more sustainable practices.
These include family workshops to learn how to make olive tapenade, paint using water-colours made from vegetables and learning how to transform waste into fertilizer. There will also be cooking show sessions with Pere Carrió, the chef from Gat Blau, Barcelona 2021's best sustainable restaurant; Quim Casellas, a Michelin Star chef and a member of the Catalonia's Cuineres i Cuiners km0 group, which works with La Platjeta; CETT students; and the chef Mònica Escudero who is a culinary journalist for El Comidista. You can also be transported to Ukraine, through the food offered by the Ukrainian restaurant Rodyna.
Also taking part in this year's edition are organisations from Espai Participatiu Agròpolis, which brings together city organisations working in the field of agro-ecology and food sovereignty, organisations from the District of Ciutat Vella, from XEAB (Barcelona Network of Environmental Facilities), from the Joint Sustainable Food Office and the Barcelona Municipal Institute of Markets, as well as Associa't. There will also be an Espai Consum Responsable information stand, where you can find out about the organisation and how to include sustainable food in your day-to-day lives.
Music for every moment of the day
The festival's music events begin at 10 pm on Friday 22, with the Ukrainian artist Daria Kolomieca. She is a DJ, cultural activist and music producer who travels the world to make her country's voice heard, with rare, exclusive records that are hidden treasures of Ukrainian music.
On Saturday 23, it will be the turn of Els Senyora, an Andorra-Barcelona group with a festive rhythm and lots of soul, contemporary jazz from Poblet Jazz, and in the evening, a concert by Liraz, performing modern Israeli music with a hint of ethnic Persian roots. On Sunday, there will be flamenco-jazz from Spice Berberechos and a performance from Hip Horns Brass Collective and Escandaloso Xpósito, in a concert combining New Orleans brass with hip-hop, funk, soul and groove from Afro-American music.
The most sustainable food in 2023?
For the second time, Slow Food Barcelona will be judging the most sustainable culinary projects for its Gastronomic Responsibility Awards. Last year's winners included Comunitat de Cuineres i Cuiners Km0, Consorci de Gallecs and the exhibition "Menja Actua Impacta" by Demà de Fundesplai.
And lastly Terra i gust [A Taste of the Land] will conclude with a community meal from Sobres Mestres, using ingredients and products that are left over from the festival. The meal will be on Sunday 25, at 8:30 pm.
Barcelona, leading the way
Terra i Gust is part of Barcelona's first City Strategy for Sustainable and Healthy Food, which includes dozens of projects and activities led by the City Council and organisations and stakeholders from the agrifood sector, in order to promote the transformation of our food system. The Strategy is the result of an extensive participatory process that has been in progress since 2021, the year in which Barcelona was the World Capital of Sustainable Food, where over 200 organisations and companies took part, along with around one thousand people.
More information